How to Deal With Inflammation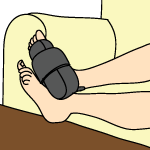 The best way to treat the pain and swelling experienced following an injury is to apply cold to the injured area. Often patients will use painkillers to deal with discomfort relating to their injury, but using this method is dangerous. Painkillers do nothing to treat the pain or inflammation associated with an injury, merely covering up the damage or even making the injury worse. Instead of painkillers, use cold to relieve this pain safely and effectively.
The problem with many ice gels is that they do not properly distribute cold evenly over the whole injury, and do not stay cold for long. The way to fix this problem is to use a ColdCure® cold compression wrap. ColdCure® wraps use thicker, bigger wraps that hold their shape to keep the cold on the injury.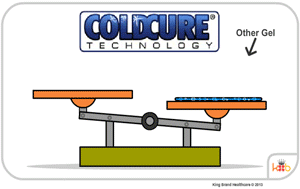 Superior Gel
Most ordinary gels are very thin and don't hold much gel. The gel they do hold can't even stay on the injury, instead moving around unevenly when pressure is applied. This makes most ordinary gels ineffective for treating injuries. ColdCure® wraps, however, use RigiGel® gel packs that are much bigger and thicker than regular ones, and hold their shape instead of flowing away when compression is introduced. RigiGel® gel packs offer superior temperature balancing as well in addition to the sheer amount of rigid gel, ensuring the entire injured area receives an equal amount of relief from pain and swelling.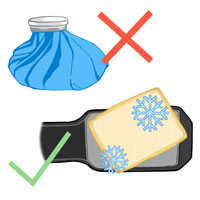 Use Cold, not Ice
It's common for many people to put ice on their injuries to relieve pain and keep swelling down. However, they are only putting themselves at risk of further damage to their tissue. Ice from the freezer is too cold and can often burn the skin over the injury. To solve this, ColdCure® RigiGel® is designed to be stored in the fridge, where it is not too cold to burn but is more than enough to treat pain and inflammation. There's no need to put yourself at further risk.
➙Click here for more information on ColdCure treatments!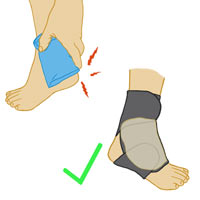 Quality Wraps
Each ColdCure® wrap is made of soft, comfortable Neoprene. They are designed with quality in mind for patients to enjoy wearing. The wraps are built to be injury-specific; there is a variety of wraps in shapes that fit the forms of many common injured body parts such as the knee or shoulder. Their unique shape allows for the best and most comfortable coverage for the entire injured area.
Paired with Revolutionary ColdCure® Wraps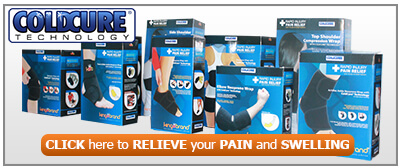 RigiGel® technology is one of the key components in the design of ColdCure® wraps. The wraps combine the benefits of cold therapy with compression and comfort, improving on all the models to create the ultimate pain and swelling solution. It's recommended that patients start using a ColdCure® wrap following an injury to alleviate the discomfort and swelling. With the cold and compression aspects working together along with the powerful RigiGel® and Perpachill® technologies, ColdCure® provides the best possible solution to post-injury pain and swelling.
➙Click here for more information on ColdCure treatments!

Forum Content from the Health Care Company King Brand®
ColdCure Wrap and BFST Wrap for foot question
Hi, I'm a first timer here and I've had these two wraps for my foot for a whole week now. Is it a good idea to use the ColdCure wrap for a majority of the day, then use the BFST Wrap before going to bed and before getting out of bed? Or would the BFST Wrap still be too early?

-Josh
Re: ColdCure Wrap and BFST Wrap for foot question
Good morning Josh,

As a general rule, you can always complete a BFST treatment when you have no swelling or inflammation present. If you have completed enough ColdCure treatments where you are not feeling a lot of pain, and you don't have visible swelling I would definitely start your BFST treatments. The goal overall for increased healing times is to complete as many BFST treatments as you can throughout the day.

Some days may be better than others where you will not need as many ColdCure treatments, while other days (where you've been on your feet for a long period of time) you might generate more inflammation and will focus more on ColdCure treatments.

Here is a quick reference guide for completing Combination Treatments with both the BFST and ColdCure Wraps: https://www.kingbrand.com/forum/index.php?topic=1081.0

Please let me know if you have any further questions - and remember you can always call in to a Treatment Advisor as well at 844-400-2525

Best regards,
Megan
Re: ColdCure Wrap and BFST Wrap for foot question
Hello,

I have been using ColdCure and BFST for about 2 months now since having tarsal tunnel release surgery in July. I've noticed that my foot now sweats profusely regardless of the frequency of BFST treatments. Is this a normal response to the treatments? I've reduced the number of treatments from 3 times a day to about once a day but the sweating is consistent. Thanks in advance for your feedback.
Re: ColdCure Wrap and BFST Wrap for foot question
Hi Josh,

Thank you for letting us know about this. There are a number of different reasons that your feet would be sweating. Lets start with how you're using the products and we can work from there.

1) With your BFST Treatments, what is your treatment schedule like? What times during the day are you using the wraps?

2) How loose or tight are you wrapping the BFST around your foot?

3) Does the BFST feel warm or hot?

4) Do you notice any pain in your feet either before or after the treatments?

5) How often are you incorporating the ColdCure into your day? What is your indicator that it's required? Are you using the ColdCure before or after the BFST treatment?

6) Is there any other general information that you could provide that you feel relevant to the conversation.

Thank you,
Megan
→

Click here for the the full King Brand® Forum
Copyright 2011-2019 King Brand Healthcare Products® Limited. All Rights Reserved.
Ankle Ice Packs Comparision,
Back Ice Packs Comparision,
Elbow Ice Packs Comparision,
Foot Ice Packs Comparision,
Knee Ice Packs Comparision,
Leg Ice Packs Comparision,
Shoulder Ice Packs Comparision,
Wrist Ice Packs Comparision,
Ankle Injury Treatment,
Back Injury Treatment,
Elbow Injury Treatment,
Foot Injury Treatment,
Healing Therapy and Injury Treatment,
Knee Injury Treatment,
How to Tape Injuries.
King Brand
®
ColdCure
®
Cold Therapy ice packs and gels are the best solution to your ankle soft tissue injury. King Brand
®
ColdCure
®
RigiGel
®
Ankle Wraps hold the cold longer, stay in place and are safer than any other product. Treat your ankle pain with King Brand
®
for the best results.